4th Athens Shoulder Course
4-day Course with lectures, Cadaver Sessions, Live & Relive Surgeries held from 5 to 8 February 2020 in Athens.
We would like to inform you about the organization of the 4th Athens Shoulder Course, which is organized by the3rd Orthopaedic Clinic of Hygeia Hospital and co-organized by the Società Italiana di Artroscopia (S.I.A.- Italian Society of Arthroscopy). The 4th Athens Shoulder Course will be held from the 5th to the 8th of February 2020 at the Royal Olympic Hotel in Athens (theoretical sessions) and at the Department of Anatomy and Surgical Anatomy of the Medical School, University of Athens (practical sessions).
The course is held under the auspices of ISAKOS, ESSKA and AGA – the German Society for Arthroscopy and Joint Surgery. Every year, approximately 100 renowned orthopaedic surgeons join its faculty and over 300 participants from over 30 countries worldwide attend the sessions.
The ultimate goal of this 4-day course is to bring in contact Orthopaedic Surgeons and Physical Therapists with cutting edge ideas in shoulder surgery in a practical and effective way for their everyday practice.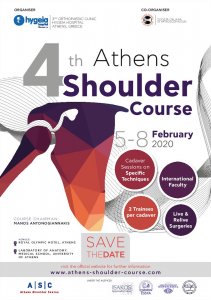 Dates
5 – 8 February 2020
Venues
Royal Olympic Hotel, Athens (theoretical sessions)
Laboratory of Anatomy of the Medical School, University of Athens (practical sessions)
Website
www.athens-shoulder-course.com
Organization
3rd Ortopaedic Clinic of Hygeia Hospital
Co-organized by: Società italiana di Artroscopia (S.I.A. – italian Society of Arthroscopy)